Visitors information
[Last updated 4 April 2022]
In order to keep our patients, staff and community safe, we ask that you please follow out COVID-safe measures. If you have any queries, please contact us on 8920 6011.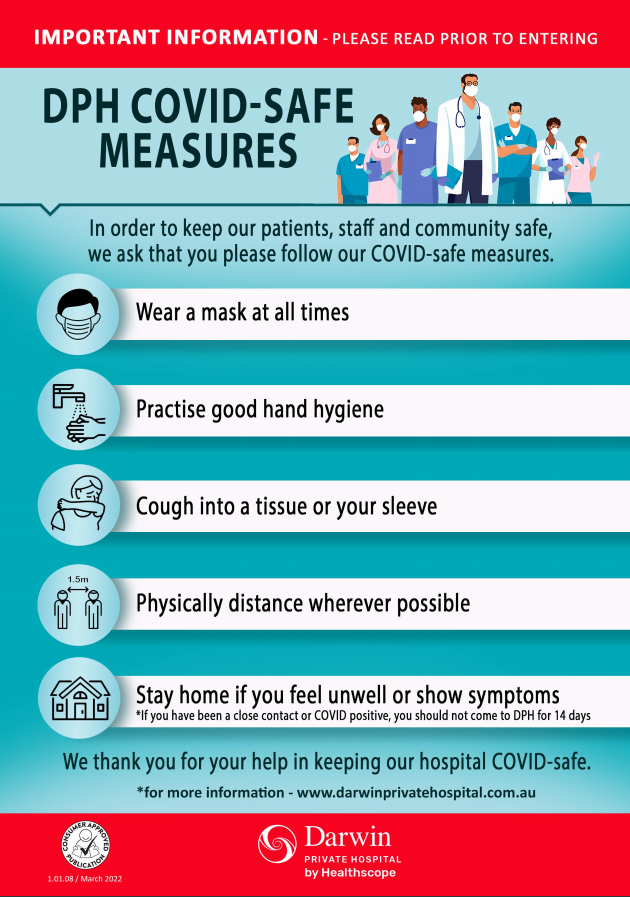 Patients, Visitors, Doctors, Contractors and staff
Wear a mask upon entry and for the entire time you are here
Practise good hand hygiene
Cough into a tissue or your sleeve
Physically distance wherever possible
Stay home if you feel unwell or show symptoms (see below for information relating to close contact / covid positive
Scan and register with The Territory Check-In QR code on display before entry (optional)
Close Contact:
If you are a close contact you cannot enter a high risk facility for 7 days after exiting isolation without an exemption
Positive Covid – exiting isolation:
If you are exiting isolation after testing positive, you cannot enter a high risk facility for 7 days after your isolation finishes
Mask Exemptions:
if you have a mask exemption, please show screening staff on entry. If you are having a consultation or procedure, please consider wearing a mask for a short period of time when you cannot keep 1.5m distance. We can provide a face shield for you in special circumstances.

Patients
Rapid Antigen test screening (RAT)
A rapid antigen test may be used as a pre-screening measure in some circumstances including

All Cath Lab patients
Obstetric patient and partner
Patients who are partially vaccinated, unvaccinated or who have an exemption will be tested on admission and on Day 3 and 5

Some high risk procedures may require RAT test on admission and on day 4 including

Airway procedures, major abdominal or neurosurgical procedures

Patients are encouraged to self-test at home on the day of admission and provide photo evidence (photo id, test packet and negative test). If you are unable to purchase a test, you will be tested on admission.
Masks
Masks are not required to be worn by patients in their rooms, but must be worn outside the room and if being transferred to other areas
Inpatient Visitor Restrictions:
Will be restricted to 2 visitors at a time
Exemptions will be considered by the Nurse Manager.

Obstetric Patients and Partners:
Obstetric patients and their partners will be required to undertake a RAT prior to admission where possible. For unplanned admissions a RAT test will be done on arrival to the ward
If you are partially vaccinated, unvaccinated or who have an exemption unvaccinated, you will also require a RAT test on days 3 and 5
If your partner is unvaccinated, they will be required to use an N95 mask but will only require a RAT test on admission
All positive Covid patients and those with Covid symptoms will be transferred to Royal Darwin Hospital