Paediatric Unit
Darwin Private Hospital offers a medical and surgical private paediatric service in a fun and family friendly environment for the community.
Our dedicated and intimate paediatric ward includes the following features:
Secured outdoor play area for children to go outside and play or relax in a safe environment
Comfortable family room with a lounge area with a big TV, toys and colouring-in table.
Kids menu that caters to all dietary requirements, as well as a meal provided to a carer.
The unit is run by a team of specialised and highly skilled nurses and leading paediatricians who are there to help through this time and answer any questions or concerns that may arise.

Staffed 24 hours a day by our paediatric nurses, we can provide care for children from one month to 12 years, with specialised equipment so that children are in the safest care possible.

Parents/carers are encouraged to stay with their child at all times.

General Information
Visiting hours are between 3pm-8pm and outside of these times is restricted to parents and carers only.
Coming to hospital can be a daunting time for children and their families, particularly if they don't know what's involved.
We have put together answers to come common questions or concerns that people have.
For English speaking families, please click here.
For Greek speaking families, please click here.
Coming to Hospital- 'All About Me' Questionnaire

We would like to make your child's visit as comfortable as possible and we would appreciate if you could give us some information about them.

This information will only be shared with staff directly involved in your child's care.
If you would rather not share these details, please do not complete this form.
Our Doctors and Nurses will use this to get to know your child and engage with them about things they like and are interested in.
Our Paediatricians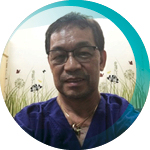 Dr. Gaudencio J. Gadil Jr
Dr JR was working as a General Paediatrician in the Philippines and the Sultanate of Oman before coming to Australia.
He completed 4 years of training in Neonatology in Westmead Hospital, NSW (2 years) and Monash Medical Centre in Victoria (2 years) before moving to Darwin where he settled after finishing his training in General Paediatrics at the Royal Darwin Hospital and Princess Margaret Hospital for Children in Perth.
He is most interested in neonatology and Community Paediatrics dealing with general paediatric conditions and children with behavioural and learning difficulties.
Contact Us
Darwin Private General Clinic
Darwin Private Hospital
Rocklands Drive, Tiwi NT 0810
P: 08 8920 6193
F: 08 8920 6048

---